Scenic and uneventful. The best way I like to describe a ferry, transfer, or delivery flight, especially one of significant distance. If it is scenic, it typically means it is VFR and the travel can continue, and if it is uneventful, it means nothing major went wrong. It is what I always hope will be the outcome of a long flight.
When I got the call recently to help a new owner pick up an A36 Bonanza he was purchasing in Seattle, I looked forward to the trip but expected that the distance could easily result in some challenges for the flight.
With an intent to pick up the aircraft on the first weekend of April, I knew that the Rocky Mountains still held great potential for winter weather and that the significant distance for the flight left us with the potential of needing to plan for unexpected changes to any intended schedule and route.
This is pretty much the norm for any flights like this. It is always the hope that a flight of this distance will go off as planned, but personal experience has taught me that  planning extra days, carrying extra days of clothing, and just hoping you won't need it is always a good idea. In a sense, I typically take this almost superstitiously to ward off the demons of needing the extra supplies.
We set the date, booked the one-way commercial trip from Grand Rapids to Seattle for the two of us and waited for the departure date.
A couple days out from the proposed flight I looked at a prog chart and was encouraged to see high pressure systems predicted across the entire route for our departure date.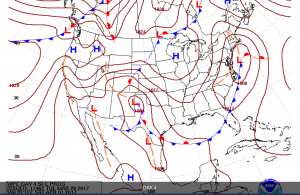 Hoping this would hold, I set a proposed route. Continue reading →